January 29-31, 2015
Thursday January 29th, Opening Evening
6:00 – 7:00
Check in and reception
7:00 – 9:00
Introduction by Richard Wiese
The Ridge Finalist (NY Premiere) (7m)
Delta Dawn Best Short Film (10m)
Q&A with Pete McBride, Producer, Director
The Batman of Mexico Best Exploration Film (US Premiere) (60m)
Q&A with Rodrigo Medellin, Professor of Ecology, University of Mexico, President, Society for Conservation Biology, "The Bat Man" and Tom Mustill, Director
9:00 – 10:00
Reception
Friday January 30th, Evening Program
6:00 – 7:00
Check in and Reception
7:00 – 9:00
Introduction by Pete McBride
Nature is Speaking: The Soil Finalist (3m)
Icefall Finalist (NY Premiere) (4m)
How to Catch a Tiger Finalist (US Premiere) (12m)
DamNation Best Environmental Film (52m)
Q&A with Travis Rummel, Producer, Director
Saturday January 31st, Morning Program
9:00 – 9:45
Check in and coffee
10:00 – 12:10
Introduction by Rebecca Martin
14.c Finalist (9m)
Killer Whales – Fins of Change Best Wildlife Film (US Premiere) (60m)
Q&A with Ben Wallis, Director
The Karsts of China Finalist (8m)
Backyard Best Student Film (NY Premiere) (28m)
Q&A with Deia Schlosberg, Director
12:10 – 1:00
Lunch Break
Saturday January 31st, Afternoon Program
1:00 – 2:55
Introduction by Gaelin Rosenwaks
Nature is Speaking: The Rainforest Finalist (3m)
Sticky Finalist (20m)
Shark Girl Best Advocacy FIlm (60m)
Q&A with Madison Stewart, "Shark Girl"
2:55 – 3:10
Break
3:10 – 5:00
And Then We Swam Best Adventure Film (US Premiere) (40m)
Q&A SKYPE with Ben Finney
Brilliant Darkness: Hotaru in the Night Finalist (NY Premiere) (12m)
Q&A with Emily Driscoll, Director
An Elephant's Tale: The Matriarch Finalist
96 Elephants: Take A Stand
Q&A with Natalie Cash, Director & John Calvelli, Executive VP Public Affairs, Wildlife Conservation Society
Saturday January 31st, Evening Program
6:00 – 7:00
Check in and Reception
7:00 – 9:00
Introduction by Richard Wiese
Touch Finalist (5m)
Nature is Speaking: Coral Reef Finalist (3m)
Virunga Best Conservation Film & Best in Festival (100m)
Q&A
9:00 – 10:00
Reception
The Films:
14.c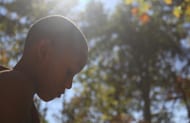 Special Jury Award
George Knowles USA, 9m
Climbers all have a story about how they got started, and 14-year-old Kai Lighter's introduction is particularly striking — and not only because he's a brilliant climber. Much like Tiger Woods in golf or the Williams sisters in tennis, he could change the demographics of climbing.
96 Elephants: Take A Stand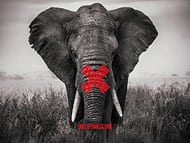 Finalist
Steve Harper USA, 20s
100,000 elephants were killed for their ivory in the past decade alone. We cannot turn back time but together, we can reverse this trend. This short PSA compels the viewer to take a stand for these magnificent creatures as they battle for their existence.
An Elephant's Tale: The Matriarch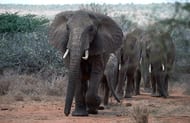 Finalist
Natalie Cash USA, 3m
Elephants — so different in form yet with an inner life that rivals our own. This short video tells the tale of a single elephant, but provides powerful testimony to the experience of the species as a whole at this crucial moment in their existence. Together, we must not be generation that lets elephants disappear.
And Then We Swam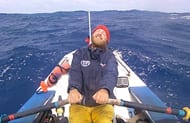 Best Adventure Film
Ben Finney Australia, 40m
And Then We Swam is the true story of two friends who set out to cross the Indian Ocean in a secondhand boat, having never rowed before in their lives. Nobody thought they'd make it. 116 grueling days later, off the coast of Mauritius and just five miles from the finish line, things started to go horribly wrong. This is the story of two unlikely adventurers who crossed an ocean to prove everyone wrong – but very nearly proved everyone right. See Trailer.
Backyard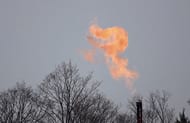 Best Student Film
Deia Schlosberg USA, 28m
Backyard shares the stories of five people in four states, all with very different backgrounds and perspectives, but all at odds with the oil and gas extraction occurring around them. Despite their differences, unnerving similarities emerge from their shared experiences of the massive unseen entity that is "the industry." Brief, animated interludes remind us to ask the bigger picture questions. See trailer.
Brilliant Darkness: Hotaru in the Night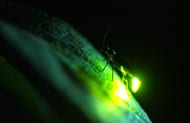 Finalist
Emily Driscoll USA, 12m
Brilliant Darkness: Hotaru in the Night' explores the importance of darkness through the study and preservation of firefly habitats in Japan and the United States. Fireflies are reportedly disappearing, as artificial night lights disrupt their 'language of light'. 'Brilliant Darkness Hotaru in the Night' features artists and scientists on different continents working to understand firefly flash patterns and how to live among wildlife in urban settings. See Trailer.
DamNation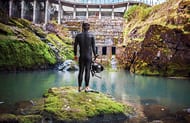 Best Environmental Film
Ben Knight, Travis Rummel, Matt Steocker USA, 52m
This powerful film odyssey across America explores the sea change in our national attitude from pride in big dams as engineering wonders to the growing awareness that our own future is bound to the life and health of our rivers. Dam removal has moved beyond the fictional Monkey Wrench Gang to go mainstream. Where obsolete dams come down, rivers bound back to life, giving salmon and other wild fish the right of return to primeval spawning grounds, after decades without access. DamNation's majestic cinematography and unexpected discoveries move through rivers and landscapes altered by dams, but also through a metamorphosis in values, from conquest of the natural world to knowing ourselves as part of nature. See trailer.
Danny MacAskill: The Ridge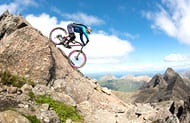 Finalist
Stu Thomson UK, 8m
World-renowned trials rider Danny MacAskill is back! Filmed on the stunning Isle of Skye in Scotland, MacAskill returns to his childhood haunt for a new challenge: riding a mountain bike on the infamous Cuillin Ridge.
Delta Dawn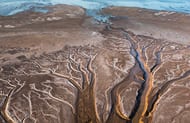 Best Short Film
Pete McBride USA, 16m
During an experimental pulse flow in the spring of 2014, filmmaker Peter McBride packed up his stand-up paddle board and headed to the Colorado River Delta to investigate how we use and abuse Western water – and how restoration is possible. See trailer. See trailer.
How to Catch a Tiger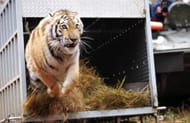 Finalist
Michael Booth, Brant Backlund USA, 10m
With time running out, two filmmakers scramble to learn how to use an ultra-high-speed camera, and get to Far East Russia in time to catch a rare Siberian tiger the moment it's released back into the wild.
Icefall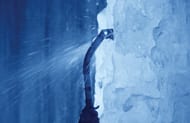 Finalist
Joseph Areddy Switzerland, 4m
In four minutes, this film brings the viewer into a visually powerful experience of watching climbers ascending frozen waterfalls which were lit up and glowing at night – an extraordinary collaboration between filmmakers and athletes making for a rare adventure shot in the barren beauty of Norway's 'Icefalls'.
Killer Whales – Fins of Change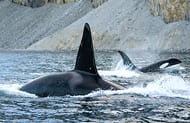 Best Wildlife Film
Brian Leith, Ben Wallis UK, 55m
A remarkable story is unfolding in the Arctic right now. As the ice melts and the polar bear struggles to survive in a fast-warming world, another animal is rapidly moving into the northern regions of the planet – and it is starting to usurp the polar bear's dominant role: the infamous killer whale or, correctly, orca. It's the first time that a camera crew managed to film orcas in Arctic waters, the first time to film orcas hunting narwhal, and the first time to film polar bears catching fish in a river – another clear hint on the current climate change in the Arctic. See trailer.
Natural World: The Bat Man of Mexico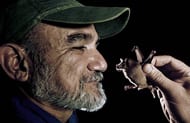 Best Exploration Film
Tom Mustill UK, 60m
Rodrigo 'The Bat Man of Mexico', has been saving the amazing bats of his homeland since childhood, when he kept vampires in his bathroom. Now his favorite drink, Tequila, is at stake. The bat that pollinates the plant that this famous liquor comes from is in trouble. Rodrigo decides to track their migration to save them. He braves hurricanes, snakes, Mayan tombs and seas of cockroaches to find and save the bats. This is a rare heart-warming and breathtaking conservation success story. See trailer.
Nature is Speaking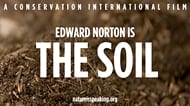 The Soil: Narrator, Edward Norton
Coral Reefs: Narrator, Ian Somerhalder
The Rainforest: Narrator, Kevin Spacey
Finalists
Lee Clow & WBWA/Media Arts Lab &
Radical Media USA, 3m (each)
"Nature Is Speaking" delivers a message people everywhere need to hear: Nature doesn't need people, but people desperately need nature.
Shark Girl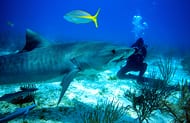 Best Advocacy Film
Gisela Kaufmann, Carsten Orlt Australia, 60m
"Shark Girl" is the inspiring story of Madison Stewart and her passionate fight to save the creature most of us fear – sharks. See trailer.
Sticky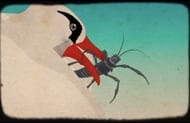 Finalist
Jilli Rose Australia, 20m
Exiled from the tropical paradise where they evolved, a handful of remarkable stick insects, the last of their kind, clung to life on a single, windswept bush on the world's tallest sea stack for 80 years. Now they're back from the brink of extinction, but when can they go home? Sticky tells a wonderfully positive Australian conservation success story, celebrating the persistence of life, the adventure and passion embedded in science, and the little creatures underfoot. See trailer.
The Karsts of China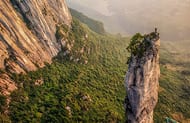 Finalist
Keith Ladzinski USA, 8m
Southern China is home to a range of dramatic Karst topography. Incredible limestone towers, caves and arch formations that have dissolved into natural wonders over that last few million years. Climbers Emily Harrington, Matt Segal and Cedar Wright quest through four of China's National Parks on a vertical adventure on ancient rock. See trailer.
Touch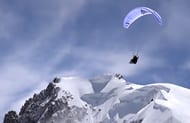 Finalist
Jean-Baptiste Chandelier France, 5m
Touch is a colorful and spectacular flying tour of Santorini in Greece, the Aiguille du Midi above Chamonix and the Col du Galibier in France, with a bit of cheekiness added in.
Virunga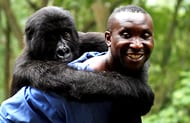 Best Conservation Film/Best in Festival
Orlando von Einsiedel, Joanna Natasegara UK, 100m
Virunga is the incredible true story of a group of brave people risking their lives to build a better future in a part of Africa the world's forgotten and a gripping expose of the realities of life in the Congo. In the forested depths of eastern Congo lies Virunga National Park, one of the most bio-diverse places in the world and home to the last of the mountain gorillas. In this wild, but enchanted environment, a small and embattled team of park rangers – including an ex-child soldier turned ranger, a career of orphan gorillas and a Belgian conservationist – protect this UNESCO world heritage site from armed militia, poachers and the dark forces struggling to control Congo's rich natural resources. When the newly formed M23 rebel group declares war in May 2012, a new conflict threatens the lives and stability of everyone and everything they've worked so hard to protect. See trailer.