Mission
The New York WILD Film Festival seeks to inspire appreciation for the planet and concern for its protection.
The festival honors filmmakers who through the power of their images and storytelling, promote awareness, educate and foster interest in exploring and protecting the natural world around us. Through compelling, exhilarating films and conversations NY WILD presents an extraordinary opportunity to exchange ideas, affect vital change and celebrate the WILD.
2014 Festival Information
The 2014 WILD Festival kicks off Friday January 24th with a special premiere at the famed Explorers Club at 46 E. 70th Street. Attendees can expect 15 screenings over the two days, Q&A's with celebrated filmmakers, talent and thought leaders. In addition to all day screenings Saturday, January 25th the Club will host a luncheon with fellow adventurers and end with evening screenings and receptions.
The Films:
AFRICA: KALAHARI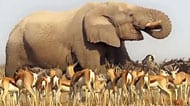 Best Wildlife Film & Best in Festival
James Honeyborne, Michael Gunton,
Hugh Pearson UK, 58m
David Attenborough takes a breathtaking journey through the vast and diverse continent of Africa as it has never been seen before. In Africa's ancient south west corner, two extraordinary deserts sit side by side. Water is in short supply, yet these deserts are somehow full of life because the creatures that live here have turned the rules of survival on their head. This film celebrates nature's ingenuity, no matter how hard it gets. See trailer
CASCADA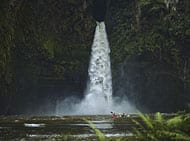 Finalist
Anson Fogel & Skip Armstrong USA, 8m
Tangled vines. Endless rain. Dodgy hotel rooms. Mud. Biting flies. Aggressive viruses…Perfection. Is this a vacation? Erik Boomer, Tyler Bradt, Galen Volckhausen, Tim Kemple, Anson Fogel, Blake Hendrix and Skip Armstrong hunt the remote Mexican jungle for the perfect waterfall…and the perfect shot. Paddler and cinematographer alike explore a world beyond the unexpected. See trailer
GLOOP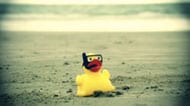 Best Short Film
Gaby Bastyra UK, 4m
Every piece of plastic ever made still exists today.
'Gloop' is a dark fairytale that follows the meteoric rise of plastic from its inception in Leo's gloomy laboratory 100 years ago. Told like a Brother's Grimm fable, 'Gloop' offers a poignant and lasting message about the price we pay for the convenience of plastic. See full-length short
I AM RED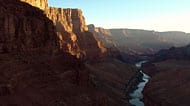 Finalist
Pete McBride USA, 4m
The Colorado River runs 1450 miles across seven states and two countries supplying water for 36 million people. It flowed to the sea for six million years but has not kissed the ocean since the late 1990s. A video poem to highlight the beauty and challenges of this national icon, American River's Most Endangered River for 2013.
THE LAST OCEAN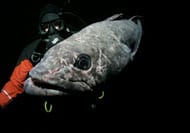 Best Conservation Film
Peter Young New Zealand, 52m
The Ross Sea Antarctica is the most pristine stretch of ocean on Earth. Scientists describe it as our last 'living laboratory', a place that can teach us about the workings of all marine ecosystems. But the fishing industry recently found its way to the Ross Sea, targeting Antarctic Tooth fish and unless stopped, the natural balance of this unique ecosystem will be lost forever. The Last Ocean follows the race to protect the Ross Sea from our insatiable appetite for fish, and raises the simple ethical question: do we fish Earth's last untouched ocean or do we protect it? See trailer
Mission Antarctic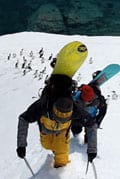 Best Adventure Film
Xavier de le Ru, Matthieu Giraud,
& Guido Perrini France, 39m
4 years back Xavier de Le Rue, multiple freeride world champion and two times Olympian came back from a trip to Antarctica with mixed feeling, although he had the experience of his life and discovered a new paradise he believed he only scratched the surface of it. Since then, he worked on going back with his filming crew on a small boat to be completely independent. This documentary about an expedition to the world's end, a fair mix of navigation, mountaineering, snowboarding, wild life and unexpected discoveries. See trailer
NORD FOR SOL (North of The Sun)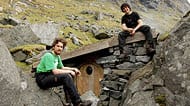 Finalist
Inge Wegge & Jorn Ranum Norway, 46m
Inge Wegge (25) and Jorn Ranum (22) spent nine months of cold, Norwegian winter in the isolated and uninhabited bay of a remote, arctic island by the coast of Northern-Norway, facing nothing but the vast Atlantic Ocean. There they built a cabin out of driftwood and other cast-off materials that washed up on shore, and ate expired food the stores would otherwise have thrown away. But the boys brought with them two items of utmost importance: Their surfboards – perhaps their biggest motivation for the
arctic adventure. Because the remote bay holds a well-kept secret; some of the world's finest surfing waves. See trailer
PARADISE FOUND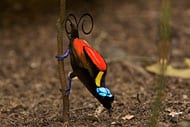 Best Exploration Film
Tom Swartwout USA, 12m
Tim Laman and Edwin Scholes have spent nearly a decade documenting the 39 species of Birds-of-Paradise that live in Papua New Guinea. The birds — which are both gorgeous and silly — prove to be elusive prey for the cameras of Laman and Scholes. See trailer
PARROT CONFIDENTIAL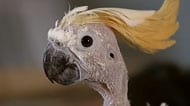 Special Jury
Allison Argo USA, 55m
Meet Lou. Abandoned in a foreclosed home, Lou is one of thousands of parrots in need of rescue. From the wilds of Costa Rica to suburban America, a loveable, quirky cast of parrots reveal their unforgettable tales and the bittersweet world they share with humans. Their outrageous intelligence and uncanny ability to communicate in any language has made parrots one of the world's most popular pets. But unlike cats and dogs, parrots have not been domesticated; they are hardwired for the wild. Add a lifespan of 60+ years to their intense need to bond, and life in captivity doesn't always have a happy ending. With shelters and sanctuaries struggling to meet the demand, too many birds like Lou have no place to go. See trailer
PRIDE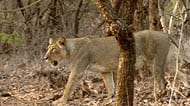 Best Conservation Success Film
Roshan Patel USA, 15m
Pride looks into the cultural relationship between residents of Gujarat, India and the last remaining population of Asiatic Lions in the world. With fewer than 50 lions living in the wild at the turn of the 20th century, rural communities started working with the government to create a haven for this top predator and are successfully securing this animal's place in the ecosystem. See trailer
RETURN TO THE TEPUIS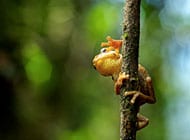 Finalist
Jenny Nichols USA, 9m
"I hear the most beautiful sound in the world," says Dr. Bruce Means. Referring to the call of a toad that he and his expedition team – North Face Climber Mark Synnott and NationalGeographic contributing photographer Joe Riis – travelled to the tops of the Tepuis of South America to find. Means has a hypothesis that he calls a paradigm and this little toad is the missing link. Braving the elements and first time repels into crevices will they find the illusive pebble toad. The expedition was made possible by National Geographic Expeditions Council. See trailer
SALMON CONFIDENTIAL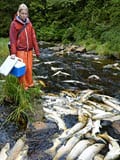 Best Environmental Film
Twyla Roscovich Canada, 71m
Salmon Confidential is a new film on the government cover-up of what is killing BC's wild salmon. When biologist Alexandra Morton discovers BC's wild salmon are testing positive for dangerous European salmon viruses associated with salmon farming worldwide, a chain of events is set off by government to suppress the findings. Tracking viruses, Morton moves from courtrooms, into British Columbia's most remote rivers, Vancouver grocery stores and sushi restaurants. The film documents Morton's journey as she attempts to overcome government and industry roadblocks thrown in her path and works to bring critical information to the public in time to save BC's wild salmon. The film provides surprising insight into the inner workings of government agencies, as well as rare footage of the bureaucrats tasked with managing our fish and the safety of our food supply. See trailer
SNOWS OF THE NILE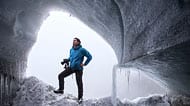 Finalist
Nate Dappen & Neil Losin USA, 20m
Uganda's Rwenzori Mountains rise 5000m from the heart of Africa. At their summits are some of Earth's only equatorial glaciers. But these "Mountains of the Moon," whose existence caused a sensation in Europe when they were first climbed in 1906, are changing fast. Snows of the Nile follows two scientist/photographers on an ambitious expedition to re-capture historical glacier imagery from the Rwenzori Mountains. If they could retrace the steps of the Duke of Abruzzi's legendary 1906 expedition and re-capture the famous glacier photographs taken by Vittorio Sella, they could visualize the impacts of a century of climate change. See trailer
THE SENSEI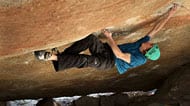 Finalist
Nick Rosen & Josh Lowell USA, 28m
Forty-six-year-old Yuji Hirayama is one of the great legends of climbing. Near retirement, he plans one big swan-song mission in the wild, mystical high-altitude jungles of Borneo. But he needs a worthy partner and finds Daniel Woods, a 21-year-old goofball skater kid who is arguably the strongest human being in the climbing world. In a classic story that crosses genres, Daniel-san travels to Japan to compete for the opportunity to work with Mr. Miyagi-like Hirayama. See trailer